NEWS PROVIDED BYEIN Presswire
Jan 10, 2023, 8:46 AM ET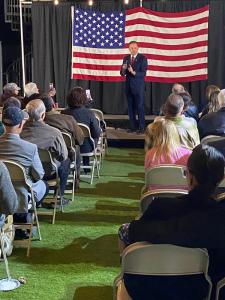 Shane Krauser is a former Maricopa County prosecutor and a former partner of an Arizona-based law firm. He now seeks to be the next mayor of Gilbert, Arizona.
GILBERT, ARIZONA, UNITED STATES, January 10, 2023 /EINPresswire.com/ — In the midst of a capacity crowd on January 6, 2023, Shane Krauser declared that he is running for mayor of Gilbert, Arizona. The election will occur in 2024.
Gilbert is one of the country's fastest-growing towns in the country and is experiencing numerous issues, such as residential growth, transportation, safety, property rights, and business expansion.
Krauser has massive support that reaches well beyond the town, which has a population of more than 250,000 residents.
Krauser, a former prosecutor and adjunct professor of constitutional law, promised to focus on three aspects that impact everyone: personal freedom, small, accountable government, and individual and commercial prosperity.
Krauser stated, "If America is going to get back on track, if the rule of law is going to mean anything, if we are going to leave our community and country better than we found it, that will happen at the local level with the right principle-based leadership. Washington, DC is not where our solution will be found."
Several speakers addressed the crowd and spoke to the media, making the case for Krauser's candidacy.
Christine Accurso, a prominent figure and advocate in Gilbert, said, "Shane Krauser will fight for everything that is critical to bringing back prosperity, real freedom, and the rule of law to our town. We need him, and he's showing up at the right time. He's coming, and we are with him 100%."
Laurin Hendrix, former Gilbert Town Councilman and newly elected Arizona legislator, said, "We haven't had a candidate of this caliber for mayor in over five decades. It's time to rally behind this rare opportunity. Shane Krauser is the clear choice for mayor of Gilbert."
Aimee Yentes, Gilbert's former vice mayor, said she was so inspired by Krauser's campaign and the massive support so early on in the campaign season.
Yentes commented, "Shane Krauser will be Gilbert's next mayor because he speaks the language of liberty. He will use this mayoral platform in a way that brings the town council together and, in turn, bring about the right ideas that the people of this town desperately want and need."
Amber McAffee, Krauser's campaign manager, noted her confidence that "this campaign will be a model for local campaigns nationwide. Something special is happening, and this community is going to rally behind the idea that better days are ahead."
Krauser's wife, Janelle, brought the mayoral candidate to the stage and said, "This man has no fear of being on the front lines and engaging in battle. The Town of Gilbert is going to fall in love with his leadership."
Krauser intends to engage the community through building strong relationships, fundraising, and instilling confidence in the voters in order to secure victory in 2024.
For questions, send an email to contact@ShaneKrauser.com.
To learn more, visit:
Website: https://voteshanekrauser.com
Facebook: https://www.facebook.com/ShaneKrauser
Twitter: https://www.twitter.com/ShaneKrauser
Note: Pictures are courtesy of MAAP Broadcasting.
Vote Shane Krauser
Contact@ShaneKrauser.com
Visit us on social media:
Facebook
Twitter